The FOG X Magnum XXL disposable device is a new product that can be purchased in the best online vape store, and in terms of battery life, it is by far the longest disposable device we can use. Under normal vaping conditions, the Magnum XXL provides about 5,000 puffs, which is more than enough to keep you vaping for weeks for everyday use, including some special situations like travel, parties, etc.
The Magnum XXL is equipped with a 650mAh battery capacity that charges very quickly, so you can use it for days on a single charge. You don't need to worry if it runs out of power, you can charge it with a USB cable and you'll have a fully charged device in no time. The fast charging performance means that you no longer need to worry about the disposable electronic cigarette suddenly failing to start. This can perfectly avoid the embarrassment that your external equipment is out of power, intelligent and user-friendly.
Meanwhile, each Magnum XXL best disposable vape comes pre-filled with 10ml of e-liquid. The collection introduces some brand new flavors: Matcha Green Tea, Strawberry Banana Ice, Honeydew Ice and Lush Ice. In addition, they comprehensively considered the user's favorite flavors, and finally chose to keep some popular flavors, such as white grape ice, strawberry wafer and so on. This must have your dish.
You will find that every sip you inhale is smooth and the taste is very sweet and rich. A wide variety of flavors mixed with a 5% salt nicotine concentration to give you a satisfying throat hit, just the way you want it to be, well worth a try.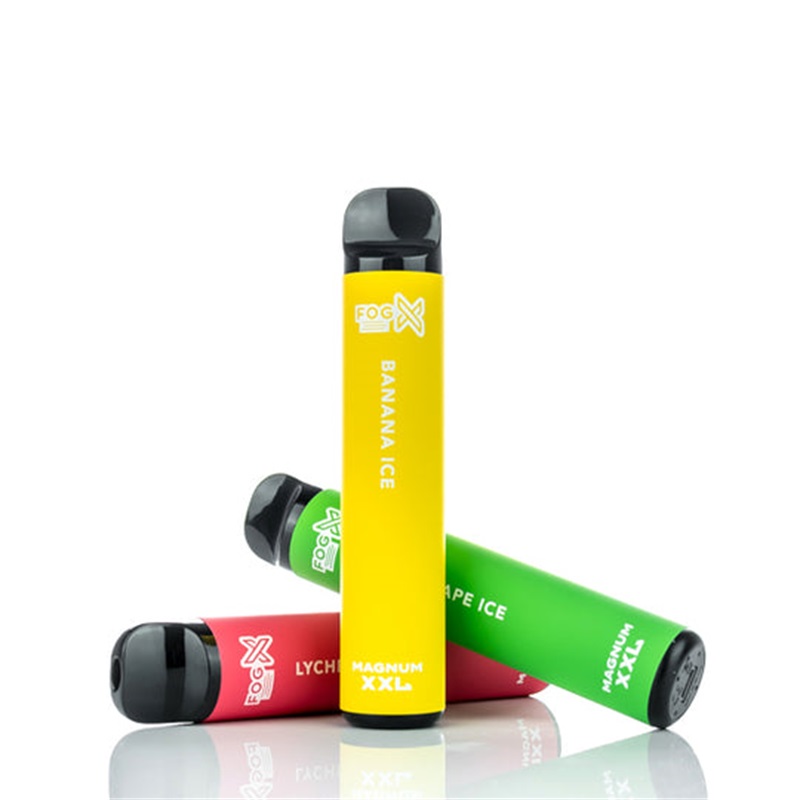 SPECIFICATIONS:
10.0 mL per e-cigarette
Made in China
5% nicotine by weight ( 50mg/mL)
650 mAh internal rechargeable battery
Approximately 5000 puffs per device
Draw-activation firing mechanism
Made with salt nic e-juice
Micro USB charge port (cable not included)
Pre-filled & pre-charged
Fog X Magnum XXL FEATURES:
5000 Approximate Puffs
Bottom Airflow
5% Salt Nicotine
Draw-Activated Firing Mechanism
Integrated 650mAh Battery
Disposable Device
Pre-Filled 10mL Juice Capacity
Rechargeable
Bottom LED Light
Micro USB Charging
Flavors:
Mango ice: ice-cold mango, sweet and refreshing
Strawberry Wafers: Cream wafers with fresh strawberries, the best dessert pairing must be fruit
Strawberry Banana Ice: Strawberries and creamy bananas mixed with ice for a childhood favorite carousel
White Grape Ice: Marshmallow-like sweet white grapes have a slightly cool taste
Honeydew Ice: Sweet melon with ice cubes is the taste of first love
Lush Ice: It's the Taste of Summer, Iced Watermelon in Summer
Frozen Peppermint: Ice-cold peppermint to clear away the troubles and exhaustion of the day
Orange Tang Ice: Add citrus to ice and feel like you're on a California beach
Banana Ice: Sweet cream and bananas add a touch of coolness to instantly relieve tiredness
Lychee Ice: A cool breeze blows in the fruity lychee forest
Matcha green tea: rich Japanese matcha, fragrant lips and teeth, endless aftertaste
Recommended Products:
lost mary os5000
tugpod evo
Read More Related Articles: http://vapekitssale.org/geek-bar-pro-disposable-fresh-flavor/