Many people may not know much about IQTE, or even heard of it. But this year, IQTE has quickly occupied a part of the e-cigarette market share with its best disposable vapes, and now it is gaining momentum. Being able to stand out from many excellent disposable cigarettes, and without enough brand awareness, one can imagine how attractive the product itself is. If you don't know IQTE yet, you can get to know this disposable new star brand through this review.
The Tornado series can provide up to 10000 Puffs, which means you can use them for a very long time. The shape of IQTE Tornado is very suitable for everyday cool vapers. Its whole body is black, only with the shape of honeycomb lines on the surface. The whole vape will give you an ultra-modern style, and the black base color allows you to use it for any occasion without being too obtrusive. In fact, this colorful shape is indeed very versatile.
IQTE Tornado can provide a capacity of up to 10000 puffs. The whole device is just the size to be held in one hand, and the cylindrical design will make you feel very comfortable in your hand. The 22ml vape juice is pre-filled, and it is also fully charged in advance. You only need to open the package, inhale directly, and enjoy. Finally, the built-in 850mAh battery can be fast charged through Type-C, I believe, you will like IQTE Tornado.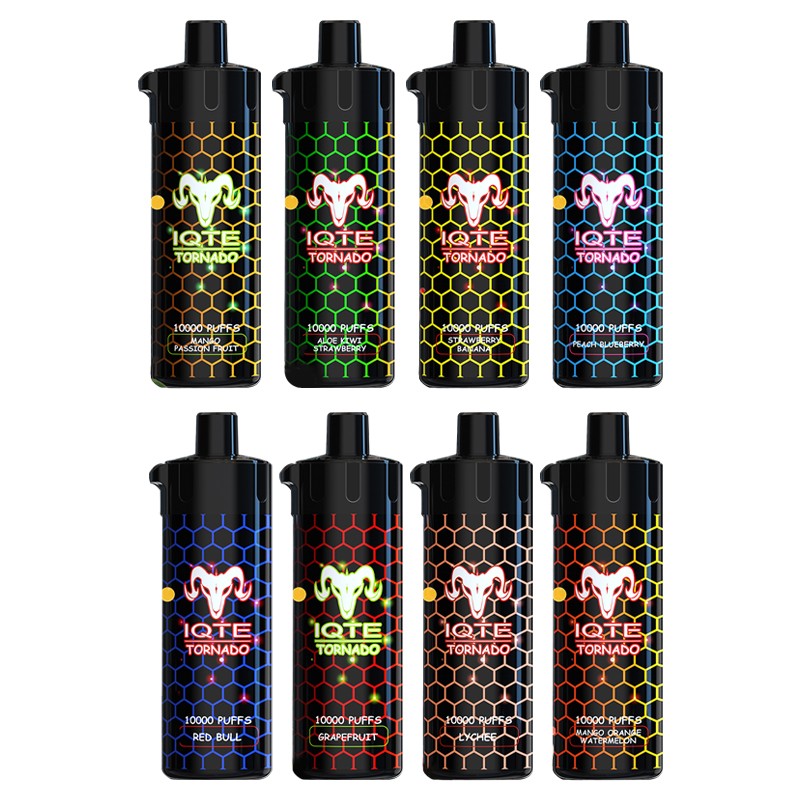 Specifications:
Battery: 850mAh
Flavor: Fruits Flavor
Charging Time: 2 Hours
Puffs: 10000 puffs
Vape Juice Capacity: 22ml
Flavors: 9 Flavors
Flavor Options:
Aloe Kiwi Strawberry
Grapefruit
Red Bull
Watermelon
Mango Orange Watermelon
Mango Passion Fruit
Peach Blueberry
Lychee
Strawberry Banana
Recommended Products:
menthol vape juice
sweet vape juices
Read More Related Articles: https://usejuicesale.com/hassel-free-experience-uwell-caliburn-tenet-vape/