Geekvape is a well-known and highly regarded vape manufacturer based out of Shenzhen, China. To date, they've served over thirteen million vapers worldwide. The Aegis and Zeus are by far their most popular products. Geekvape continually innovates and improves upon existing products for the masses to enjoy. The Geekvape Aegis Max 100W Starter Kit is the latest indestructible vape to hit shelves in 2020! The IP67 rating makes it shockproof, dustproof, and also water-resistant.
The Geekvape Aegis Max 100W Box Mod is relatively tall when compared to previous Geekvape Aegis devices. This was done so it could accommodate a single 21700 battery. It can also take a 18650 with the included adaptor. With either battery installed it can output up to an amazing 100 watts of raw vaping power. The much loved AS-100 chipset also comes pre-installed. It includes various temperature control modes like Power, Bypass, and VPC. The design of the Aegis Max stays true to the rest of the Aegis line. It looks rugged and tactical, but stylish at the same time. It has a rubberized outer body, along with the signature Aegis skeletal metal frame that surrounds the leather grip.
The Zeus sub-ohm tank has been around for a while, but it's still a great performing sub ohm tank. The Zeus is a top airflow tank which greatly reduces the chances of it leaking. This top airflow funnels air down through the chimney and to the coil, and although top airflow tanks aren't known for their flavor, the Zeus is quite a flavorful tank. It has an 810 drip tip with rounded edges for added lip comfort. The top cap unscrews with a quarter turn to reveal two large, kidney shaped fill ports. The coils for the Zeus are easy to install, they just push into the bottom of the tank.
If you want to get a brand new indestructible Aegis device that can take a powerful 21700 and also a popular sub-ohm tank, the Geekvape Aegis Max is highly recommended. It's believed that each vaper can benefit from the long-lasting vape kit.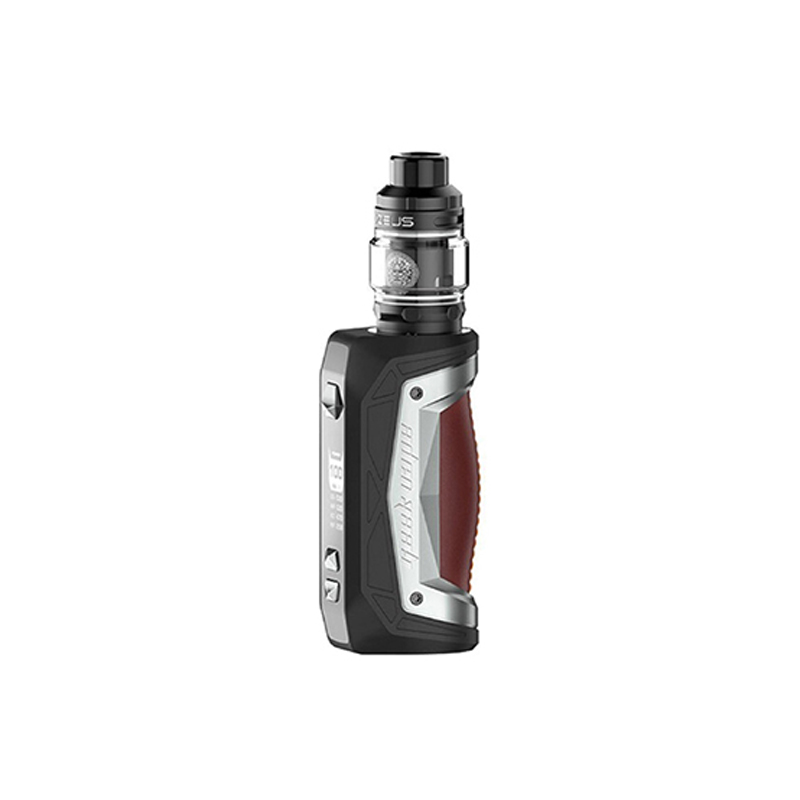 Parameters
Geekvape Aegis Max Mod
Dimension: 93*46.3*34mm
Battery: Single High Amp 21700 / 18650 Battery (Not Included)
Wattage Output Range: 1W-100W
Resistance Range: 0.05ohm-3.0ohm
Thread: 510 Connection
Charging Port: Micro USB Port
Colors: Black Space / Grey Pearl / Black Tungsten / Red Phoenix / White Storm
Geekvape Zeus Sub Ohm Tank
Dimension: Φ26 * 42.5mm(Not including Drip tip)
Capacity: 5ml (Spare glass tube 3.5ml)
Filling method: Top fill – Dual Fill Ports
Drip tip type: 810 Drip tip
Resistance: 0.4ohm Mesh Z1 KA1 coil(60-70W); 0.2ohm Mesh Z2 KA1 coil(70-80W)(Pre-installed)
Colors: Black / Rainbow / Gunmetal / Blue / SS / Red&Black / Gold
You may also want
how much is the moti piin
lolly puff in stock