As a stylish and compact vaping device, the voopoo argus g pod kit combines performance and convenience. The small and slim body and compact and practical functions make it a favourite among e-cigarette enthusiasts.
At the heart of the Argus G pod kit is its innovative GENE.AI chip. The chip provides a fast response launch time of 0.8 seconds. Various modes can be presented to you, such as the smart mode that automatically detects the coil resistance and sets the appropriate wattage and the RBA mode for those who want to customize the vaping experience.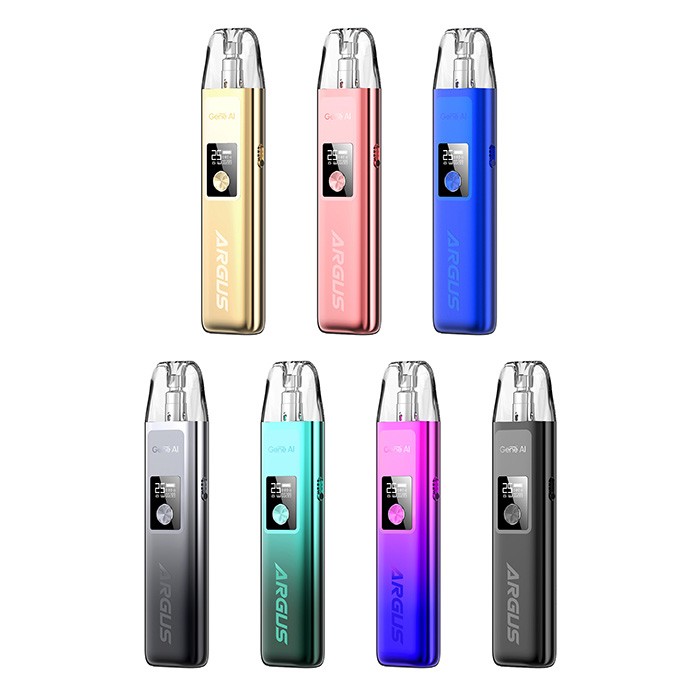 It is made of leather and zinc alloy, and its ergonomic design can provide you with a comfortable and high-quality hand feeling. It also has a sharp and easy-to-read 0.96-inch OLED screen on the front. All important e-cigarette information, such as wattage, battery life, and coil resistance, will be displayed on the screen for easy operation and observation.
In terms of safety features, Argus G has a series of protections, including over-temperature protection, over-charge protection, over-discharge protection and short-circuit protection. It also features a unique PUFF Curve mode, allowing you to track their vaping habits over time and adjust their usage accordingly.
When you receive the package you will receive two pods. They are a 4ml PnP pod compatible with all PnP coils, and a 2ml MTL pod designed for mouth-to-lung vaping. The VOOPOO Argus G Pod Kit is an excellent choice for vapers looking for a portable multi-function device that combines performance and convenience.
More attractive new products are in our vape stores online, you are welcome to choose.
We also want to recommend more boutiques for you: