Have you ever used vape devices with auto-squonking system? This time let's look at such a vape mod kit named Vsticking VKsma. It's available in vapesourcing online store, don't miss out if you like it.
Vsticking VKsma Kit uses the advanced YiHi SX638H Chipset. This chipboard features an integrated ESS driver (Electronic Spray Squonker) that automatically sprays e-liquid into the coil for supporting atomizers such as the ADA(Auto Dripping Atomizer). In traditional pod systems, you may often find that if the coils are not properly saturated, you may experience a dry hit. The Vsticking VKsma does not have this problem thanks to its ESS spray technology and its chipset which senses when the coil has become too hot. In the latter case, the device will not fire. Inside the device, there's an internal 3ml tank that resides in a 100% sealed chamber to limit any leakage. You may always feel safe when carrying this small pod setup.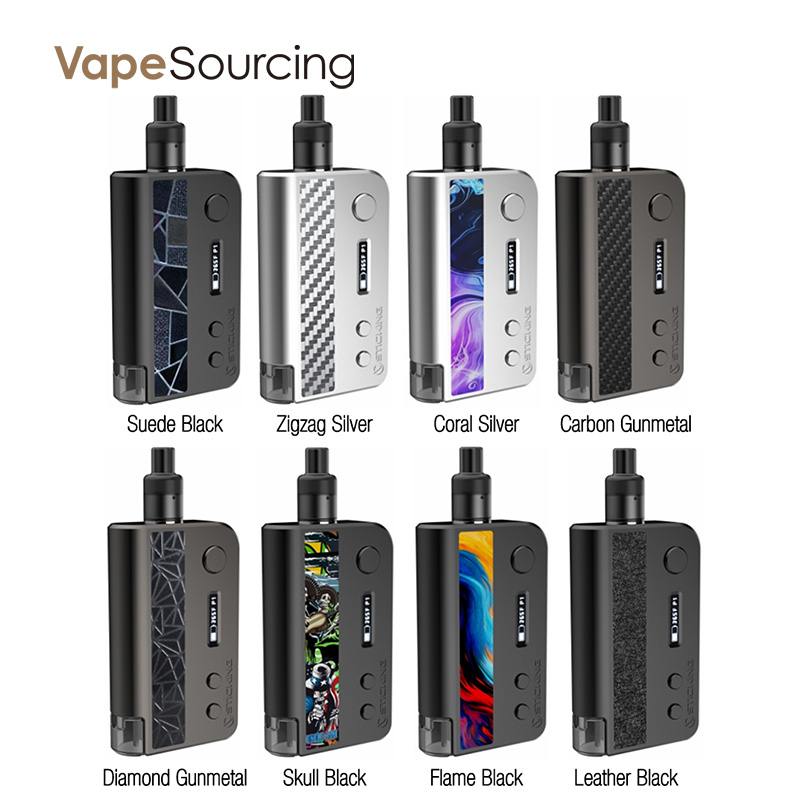 Powered by a built-in 1400mAh battery, the Vsticking VKsma can last a long vape time and allows for two working modes including Auto mode & DIY mode. In Auto mode, the SMA ADA will be detected automatically, but you may also set the mod to the DIY mode for use with the rebuildable SMI RADA. Looking at the picture, you can see that the ADA is built with adjustable airflow control which is done by pivoting the airflow cap. While in Auto mode, the Vsticking VKsma will intelligently pump e-juice based on its density, but you may also adjust it to your liking. And, there are also two power output settings (P1/P2). Anyway, the Vsticking VKsma is ideal for kinds of vapers.
You may also like: smok rpm40 cena
Parameters as below
Size: 79 * 47.5 * 18.6mm
Battery Capacity: 1400mAh
E-liquid Container Capacity: 3ML
Working modes: Auto Mode (5-25W), DIY Mode (10-35W)
Auto Modes: 0.3QNi211 P1 (10-15W) / P2 (20-25W); 1.0QSS316 P1 (5-6W) / P2 (10-12W)
DIY Mode: 10-35J
Output Voltage: 1.73V-3.5V
Temperate Control Range: 180-260°C (356-500°F)
Charging Voltage and Current: Standard DC 5V/1A
Material: Zinc Alloy
Display: 0.69″ OLED
Related blog: Advken Manta V2 MTL RTA Preview | An Ideal Partner For MTL Vaping