I believe that for many veterans, the refillable device is more economical. Although disposable pods are very convenient, people still pay more attention to cost performance, such as box mod and pod vape kit. Choosing a suitable vape juice is very important for vape.
Twist, a well-known e-juice maker, subtracted the "i" from their name added nic salts to some of their best selling flavors to create Twst Salt. But sometimes, we also called Twist Salt.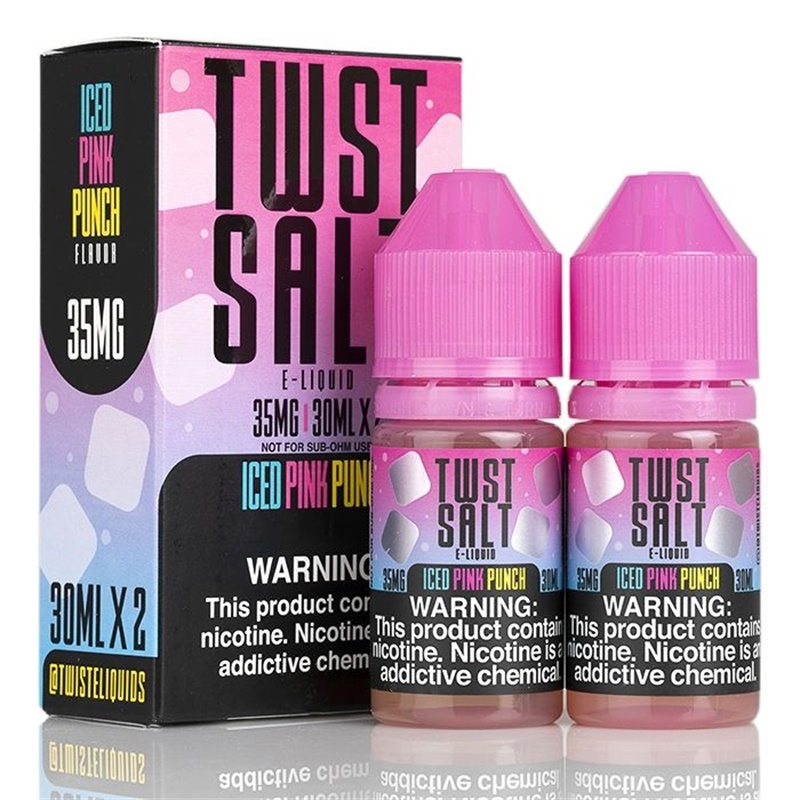 There are 7 different flavors you can see: Iced Pink Punch, Honeydew Melon Chew, Iced Watermelon Madness, Pink Punch Lemonade, Arctic Cool Mint, Watermelon Madness, Strawberry Crush Ice.
Today, I will introduce you Twist Salt Iced Pink Punch as an example. Maybe you will find the best vape juice here.
Parameters
Bottle Size: 2 x 30ML (milliliter)
Nicotine Available: 35mg, 50mg
VG to PG Ratio: 70%VG / 30%PG
Flavor Profile: Pink Lemonade, Menthol
Twist Salt Iced Pink Punch adds a blast of icy chill to a Pink Punch Lemonade that stands on its own as a tremendous nic salt flavor. The menthol flavor hits on the back end, adding a dose of cool to sweet pink lemonade flavor. The coolness elevates the pink punch but is never overpowering.
If you like sugary sweet lemonade with a twist, err twist, this nic salt is just what you need. Twist Salt e-liquid has a couple of these iced flavors. Menthol lovers will love the frigid pull, but fans of fruit flavors won't find the mint overwhelming.
Who is the best vape mod do you think? Leave your comment.
Daily Recommend:
cheap uwell caliburn