The DotMod brand is always a surprise, and in recent years, you can see the DotMod brand on many occasions. Whether it is the recommendation of instagram bloggers, the evaluation of youtube bloggers, or the young people who love the trend on the street, you can see the emergence of DotMod. Different from some mainstream big brands in the current electronic cigarette industry, DotMod is more inclined to release some uniquely designed, small and compact pod kits to gain the love of the public with uniqueness.
DotMod dotPod Nano Pod System Kit is very small, the frame is made of zinc alloy material, with leather surface, so that the whole device is full of classic and advanced feeling. In the lower right corner of the front, the brand logo of DotMod is engraved, but it is not marked with bright colors, but it is almost integrated with the leather surface, giving a sense of low-key luxury. The body is very square, but it will not make you feel burdened. You can put two dotPod Nano at the same time without feeling burdened.
The DotMod dotPod Nano can output up to 18W of power. The mesh coil can provide resistance of various parameters, so it supports both MTL and RDTL modes. The charging port is a universal Type-C interface, and the charging speed will definitely satisfy you, so you don't have to worry about the embarrassment of running out of power when you are out. Despite its small size, the DotMod dotPod Nano Pod has powerful functions and is very convenient to operate, making it a good choice for beginners.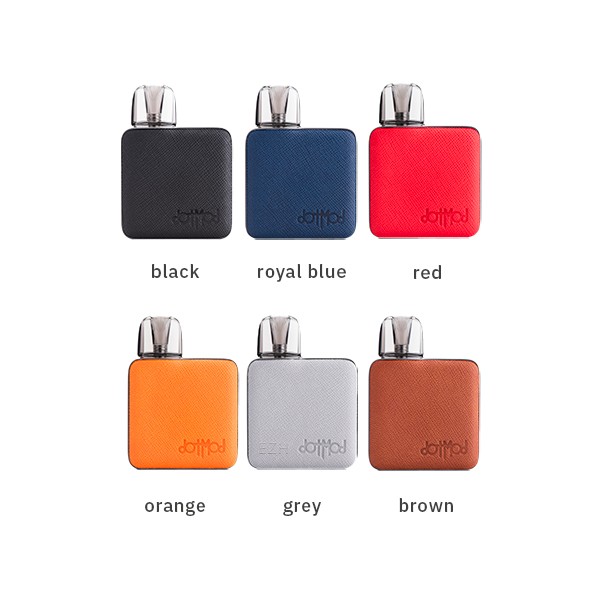 Specifications:
Tank Capacity: 2ml
Battery Capacity: 800mAh
Pod Coil Type: Mesh
Coil Resistance: 0.8ohm & 1.0ohm
Coil Types: Mesh
Battery Type: Integrated
Charging Type: USB Type-C
Features:
Two Coils Included
Super Compact Vape Kit
MTL and RDTL Vaping
18W Power Output
Pair With High PG Or High VG E-Liquids
Recommended Products:
esco bar h2o
smok igee a1 kit
Read More Related Articles: http://vapekitssale.org/taste-our-monster-r-and-m-monster-disposable/