Do you know Vandy Vape? It is one of the leaders of the vape industry in China. Today let's look at their latest Rath RDA for you guys, hope you will like it. Here we go!
VandyVape Rath RDA is a rather interesting-looking RDA for sure, with good straight lines. Outside it has a barrel that contains two airflow intakes with honeycomb style, when turned it allows you to adjust the same airflow intakes. The airflow options range from adjusting the two bottom rows of holes on both sides to all three rows of holes. In between when you open in half will not be centered with the coil due to the fact that the barrel locks onto the base in a fixed position with no play whatever. The interior of the top cap is a very reduced interior and is also domed. The airflow slots drilled into the top cap are angled down towards the coil, but also the walls are super thick and the chamber is already pretty reduced for a single coil or dual.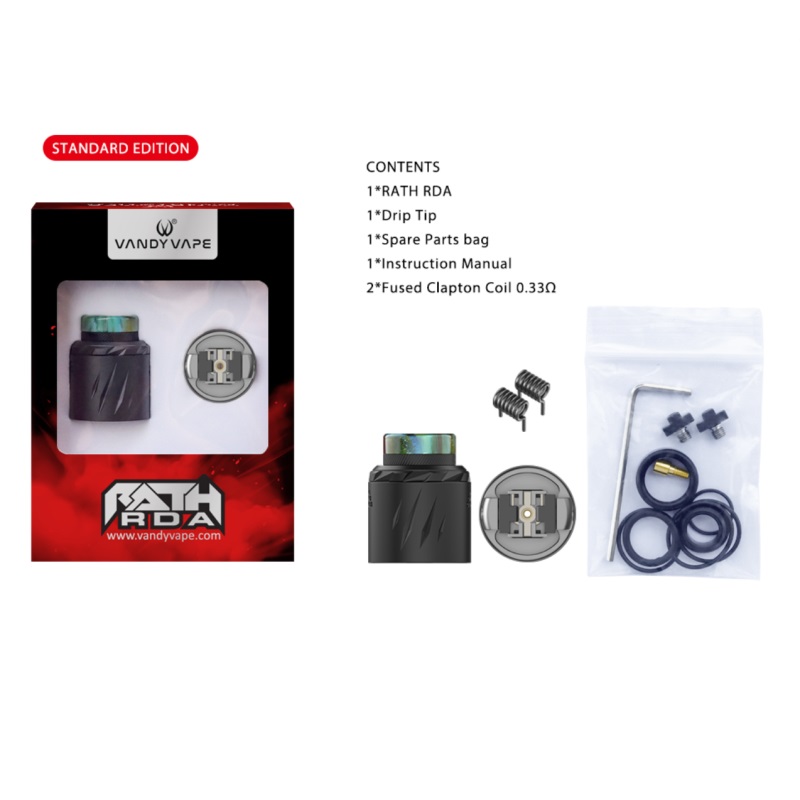 The build deck is super interesting with two posts, having a ceramic clamp, and a big flat head screw attached to the clamp. The clamps are open and close along with the screws. The left side of the posts is the positive side, and the right side is the negative side. The build deck support single or dual coils. For the squonk configuration in Rath RDA, e-liquid will arrive at the build deck in the center in between the two posts you can then install the barrel as well. There's plenty of room for the best vape juice and the airflow holes sit quite high in the barrel so a very leak-resistant RDA. The coil in Rath RDA set very high and near the drip tip, despite his diameter and how tall he is. You can already guess his flavor and performance.
You may also like:
buy geekvape l200 mod
voopoo vinci 15w review