In this article, we'll be covering the Bang XXL Switch Duo. If you like disposable vapes which allow flavor switch, this is an ideal choice. Here are more details.
Bang disposable vapes are some of the best-selling devices in the vaping community. They are the most recent company to develop a duo flavor device. Each Bang XXL Switch Duo features two flavors. Not only do these devices come in 2 flavors, but they also provide up to 2,500 puffs making it one of the longest-lasting vapes. Moreover, these devices come with 6% nicotine salt concentration e-juice and a 1,100 mAh battery.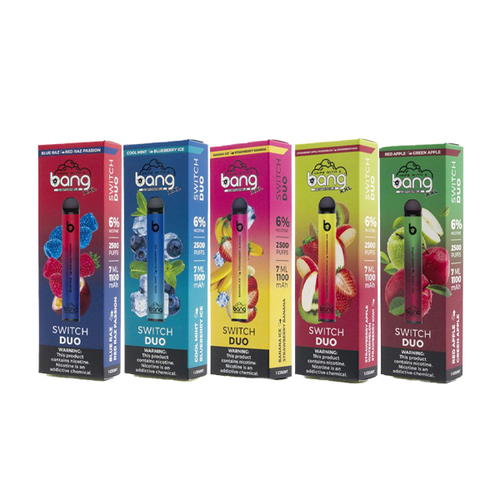 The Bang XXL Switch Duo comes with a pre-filled 7mL pod cartridge and pre-charged so the device is ready to go out of the box. Then when you're about to hit 2,500 puffs, you can just throw it out. The Bang XXL Switch Duo requires no maintenance at all. All in all, this is one of the best disposable vape devices. Just put it in your pocket, and go.
You may also like:
bantam mango passion
smok rpm coil