Today, I'll introduce you the Geek Bar Pulse 15000 Puffs Disposable, an innovative vaping device that seamlessly merges convenience with an unparalleled vaping experience, tailored for both novice and seasoned vapers.
Indulge in a Gratifying E-Liquid Experience: Immerse yourself in rich and satisfying vaping sessions with the 16mL pre-filled e-liquid. Infused with a potent 5% (50mg) nicotine strength, each puff delivers an exquisite fusion of flavor and a gratifying throat hit.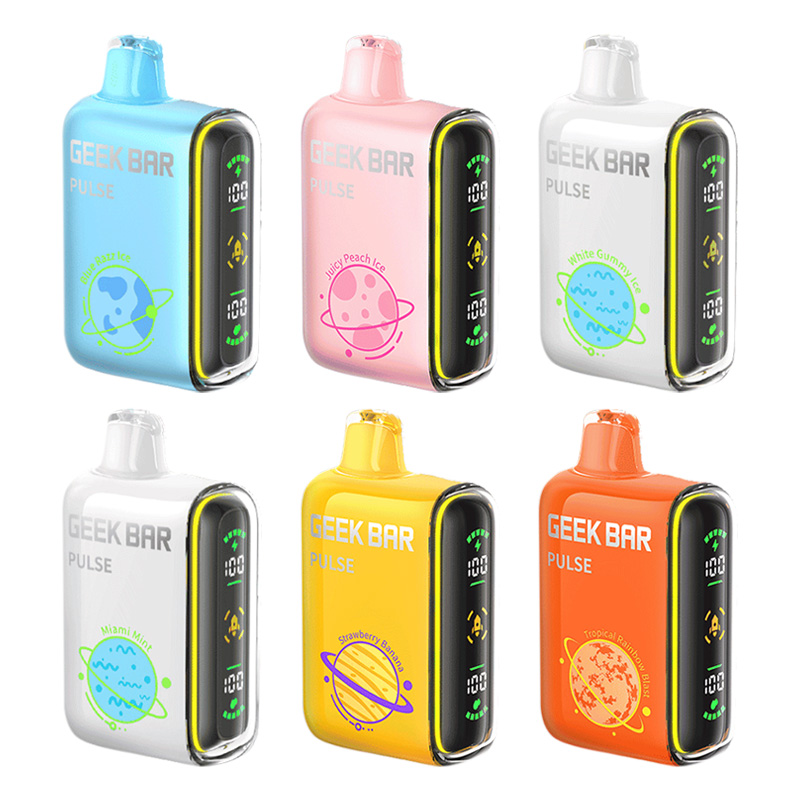 Exceptional Performance: Bid farewell to frequent charging inconveniences. The Geek Bar Pulse boasts a robust 650mAh Type-C rechargeable battery, ensuring extended vaping sessions and swift recharging capabilities.
Personalize Your Vaping Journey: Offering two distinct vaping modes, this device caters to diverse preferences. Choose Regular Mode for approximately 15000 smooth puffs or switch to Pulse Mode for around 7,500 intense and flavorful inhalations.
Flavor Excellence: The incorporation of a dual mesh coil guarantees uniform heating, delivering a pure and untarnished flavor with each inhale. This cutting-edge technology ensures no lingering burnt aftertaste, only an authentic and unadulterated vaping experience.
Stay Well-Informed: Beyond its aesthetic appeal, the sizable display screen provides essential updates on battery level, vaping mode, and e-liquid volume, ensuring you remain in complete control.
Efficient Heating: The dual-core heating system ensures swift and uniform heating, ensuring consistent vapor production and an elevated vaping experience.
In summary, the Geek Bar Pulse Vape Disposable transcends the ordinary, seamlessly blending technology and user-centric design. Immerse yourself in an unparalleled vaping journey – step into the realm of Geek Bar Pulse today!
You may also like: Pyne Pod vape 8500