With the development of vape technology, there are more and more high-power vape kits emerging in the vape market. And recently some of my vape guys asked me which one to buy, so today I decided to share two 220W kits which are really worth to buy.
The first one is REV Phantom Kit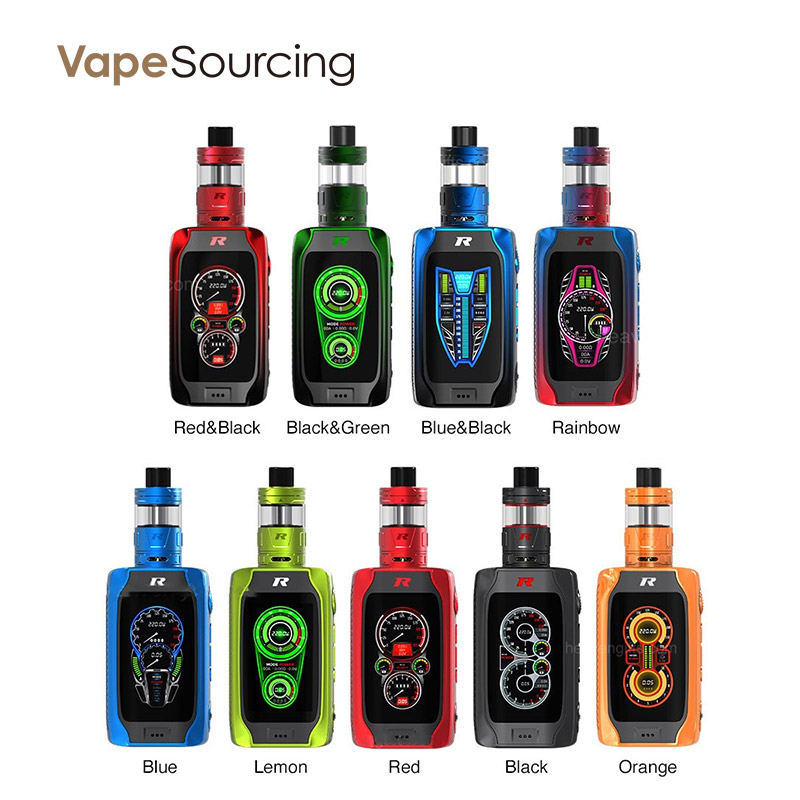 It symbolizes Rev Tech's comeback after the success of Rev GTS. Armed with the all-new Rev Optimax chipset, the Rev Phantom Mod takes customizability and playability to the next level. You'll be attracted after the first glance of the REV Phantom TC Kit. Cause it comes with a bigger dashboard and a greater visibility tougher cover. The 2.8-inch LCD color screen is covered by quartz-level hard panda glass.
Powered by dual 18650 batteries and the advanced REV chipset, the Phantom MOD can fire up to the max output of 220W with 0.002s quick firing speed and complete output modes. Thanks to the 32MB onboard memory, the dashboard is more high-res than before. You'll feel the rush of adrenaline, cause the built-in vibration motor will be activated whenever you take a draw. There are also full-color customizable LEDs around the oversized button, which makes the breathing mod available. Besides the breathing mod, the stealth mode is also available.
As for the REV Drift II Tank, it has optional 2ml/5ml e-juice capacity, mainly featuring the swivel-to-fill top fill system, triangular bottom airflow design and innovative REV series coils for smoother, pure flavor reproduction and voluminous vapor. Just get the REV Phantom Kit for an unmatched vaping experience.
Parameters are as follows:
Tank Capacity: 5ml/2ml
Batteries: 2 x 18650 batteries
Power Range: 1 – 220W
Resistance Range: 0.05 – 3
Output Voltage: 0 – 8V
Charging: Micro USB, 5V 2A
Wanna have a try? It's easy to get it from the best vape online store.
The second is SMOK Alien Kit

It is truly out of this world, integrating a unique statement piece with an ultra-performance chipset with 220W of maximum power and full temperature regulation alongside the widely popular TFV8 Baby Beast Tank. The SMOK Alien 220W Box Mod measures 85mm by 44mm by 30mm, featuring an elegant soft contour along the zinc alloy chassis, integrating stunning colorful inlays for a stellar showcase piece. The epicenter of functionality lies within the new enlarged OLED display, providing extensive information within an easy-to-read operational interface. Along with unique placement of adjustment buttons and stealth firing mechanism, the Alien 220W is built for the superb ergonomic form factor. The chipset is notably intelligent, providing a wattage range of 6 to 220W, minimum atomizer resistance of 0.06ohm, and full temperature control suite with support for Ni200, Titanium, and Stainless Steel heating elements. Integrated within the internal onboard is a plethora of safety features, including a battery series connection. The SMOKTech TFV8 Baby Beast Tank is the compact evolution of the unrivaled TFV8 Cloud Beast Tank, featuring a well-balanced dynamic range with 3mL juice reservoir, precision airflow control, signature hinged top-fill system, and introducing the new Baby Turbo Engines coil structure.
Parameters are as follows:
Dual High-Amp 18650 Battery – Not Included
Dimensions: 85mm by 44mm by 30mm
Wattage Output Range: 6-220W
Min Atomizer Resistance: 0.06ohm
Temperature Range: 200-600F
Related blog: VSticking VMesh Tank VS FreeMax Mesh Pro Tank