Introducing the Ice Wave X8500, a disposable vape renowned for its enduring performance. In the competitive realm of disposable vapes, common features prevail: the presence of icy undertones, a variety of fruity flavors, draw activation, the utilization of potent yet smooth nicotine salts, and a focus on flavor rather than vapor production, achieved through high-resistance coils and low wattage output. Mi-Pod, serving as the master distributor for several top brands, boasts an extensive collection of disposable vapes.
Today, we turn our attention to the Icewave X8500 series, named for its ice-cold vaping experience and an impressive puff count of 8500.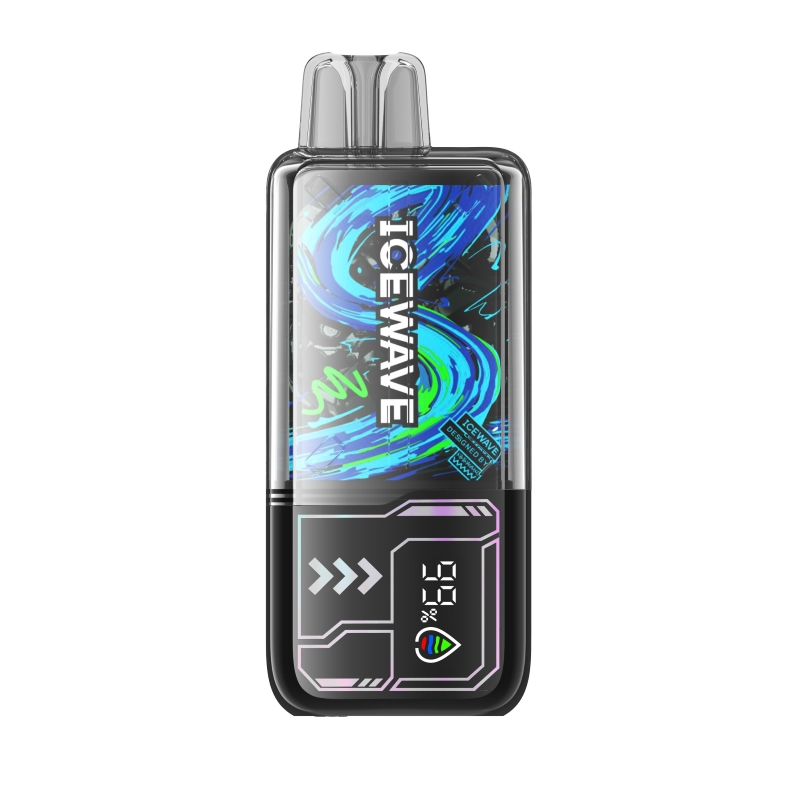 The Icewave X8500 assortment shares its flavors with the remarkable Zovoo Dragbar B3500 disposable vape. The manufacturer asserts that these flavors were crafted by skilled American artisans to cater to the preferences of adult American vapers. While Icewave flavors lean towards the cooler side, the Zovoo Dragbar B3500 is not devoid of its own chill factor.
The core flavor profiles remain consistent between the two products, but the Icewave nicotine salts introduce an extra layer of icy freshness. If you seek a disposable device with similar features but a lower puff count and more budget-friendly price, the Zovoo Dragbar B3500 series offers exceptional vapor and flavor production.
The Icewave X8500, compact at 4″ in height, 1 2/3″ in width, and 0.75″ in depth, houses a 600mAh battery, a charging port, and LED screens. The transparent mouthpiece is included in the height measurement. The LED display conveniently reveals the remaining battery charge and e-liquid level. While airflow adjustment is not available, vapor production remains impressive. The 600mAh lithium-ion battery can be charged via USB-C.
The Icewave offers an estimated 8500 icy puffs infused with fruity flavors, thanks to its substantial 18ml e-liquid capacity—equivalent to a full 30ml bottle of nicotine salts.