In the ever-evolving world of vaping, Scott Storch introduces his latest masterpiece – the Whiff Remix 5000 . Inspired by his earlier innovations, this cutting-edge device promises a unique and satisfying vaping experience, earning its name with a remix of distinctive flavors. Dive into a world of flavor as we explore the exceptional features of the Whiff Remix, a pre-filled disposable vape pod system designed to deliver over 5000 puffs.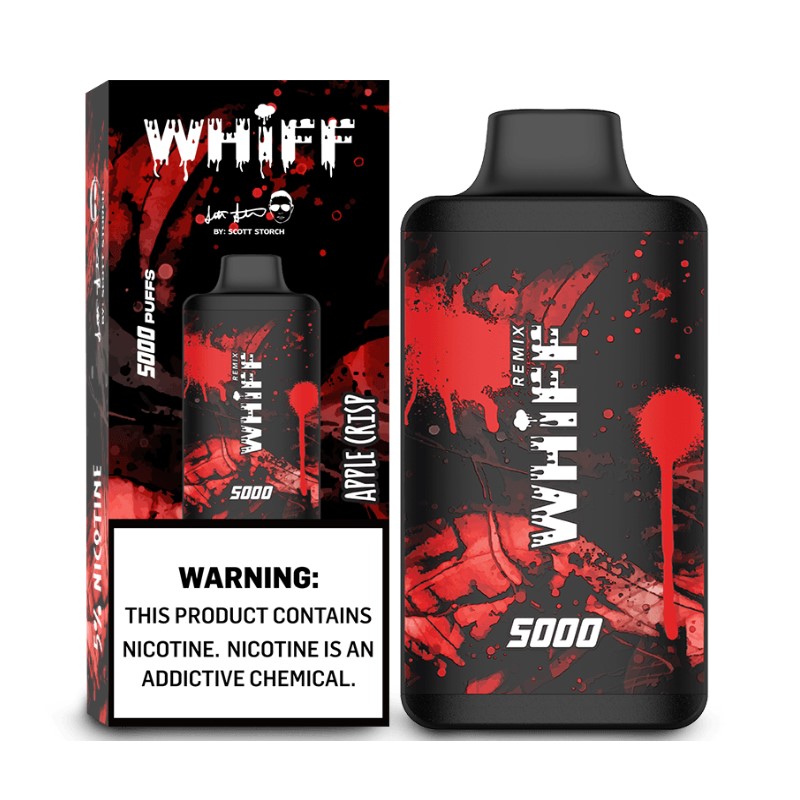 Flavor Innovation:
What sets the Whiff Remix apart is the infusion of distinctive tastes drawn from Scott Storch's previous breakthroughs. Each puff is a testament to the creative blend of high-quality flavors, showcasing a commitment to a vaping experience like no other. The Remix lives up to its name, offering a delightful fusion that pays homage to Storch's expertise in crafting remarkable e-liquid combinations.
Impressive Puff Capacity:
The Whiff Remix takes vaping convenience to the next level with its impressive puff capacity. Boasting the ability to deliver more than 5000 puffs, this disposable vape pod ensures a long-lasting and enjoyable experience without the need for constant replacements. Say goodbye to the hassle of frequently changing pods, as the Whiff Remix stands as a testament to durability and efficiency.
Powerful Battery Performance:
Equipped with a USB-C rechargeable 650mAh battery, the Whiff Remix combines convenience with power. While the cable is not included, the USB-C feature ensures quick and efficient charging for an uninterrupted vaping session. Experience the reliability of a robust battery that complements the pod's impressive puff capacity, allowing you to enjoy your favorite flavors without interruption.
Flavorful E-Liquid and Accurate Tastes:
The heart of the Whiff Remix lies in its 11mL of flavorful e-liquid, meticulously crafted for accuracy in taste. Each draw is a symphony of precisely remixed flavors, creating an immersive vaping journey. Whether you're a connoisseur or a newcomer to the vaping scene, the Whiff Remix caters to diverse palates, offering an authentic and enjoyable vaping experience.
Stylish Design and Portability:
Beyond its exceptional performance, the Whiff Remix boasts a stylish box form that enhances its overall appeal. The sleek design adds a touch of sophistication to your vaping experience, making it not only a functional device but also a fashion statement. Its portable and practical nature ensures that you can enjoy your favorite flavors on the go, making it an ideal companion for those who prioritize both style and substance.
Strong Draw for Maximum Vapor:
Whiff's commitment to meeting the needs of vapers is evident in the strong draw of the Remix. This feature ensures a substantial vapor production, satisfying the cravings of those who seek a more robust and fulfilling vaping experience. With the Whiff Remix, you can indulge in thick clouds of vapor that elevate your overall enjoyment.
Conclusion:
Embark on a flavorful journey with the Whiff Remix disposable vape, a testament to Scott Storch's innovation in the vaping industry. With over 5000 puffs, a powerful battery, and a meticulous blend of accurate tastes, the Whiff Remix sets a new standard for disposable vape pod systems. Elevate your vaping experience with a device that combines style, performance, and an array of quality flavors – the Whiff Remix.