Embarking on a journey to find the perfect vaping companion? Look no further! Uwell brings you the Uwell Caliburn GK3 25W Pod System, designed with you—the customer—in mind. Let's delve into the features that make this pod system a game-changer from your perspective.
All-Day Power for Seamless Vaping:
As a customer, one of the top priorities is a reliable power source. The Caliburn GK3 understands this need, offering a 900mAh integrated battery that ensures all-day vaping without constantly worrying about recharging. No more interruptions – just uninterrupted enjoyment.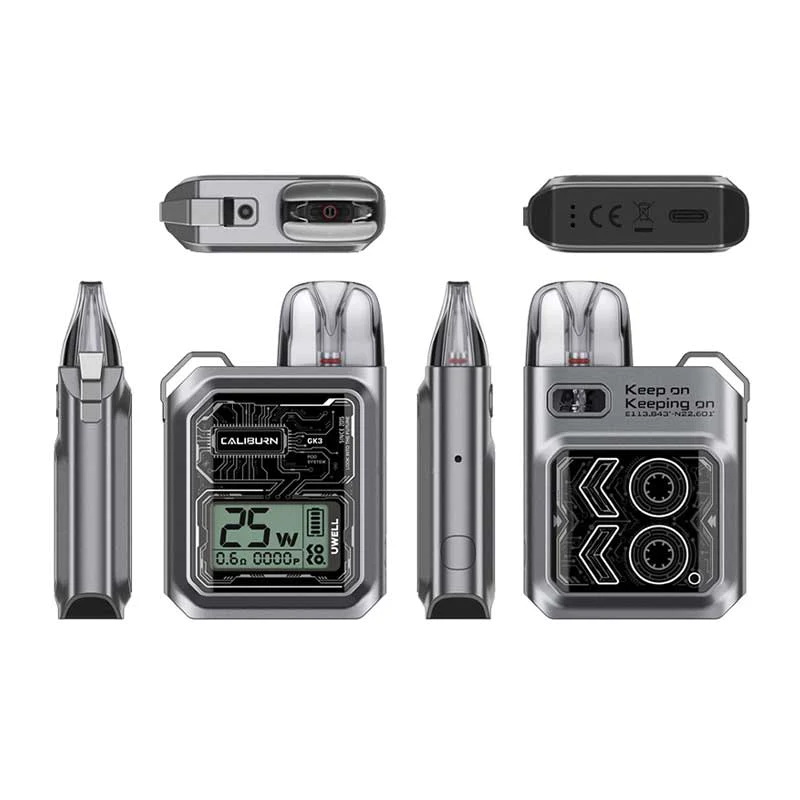 Stylish and Comfortable Design:
Uwell has crafted the Caliburn GK3 with a perfect blend of style and comfort. The lightweight PCTG materials not only contribute to a resilient chassis but also make it easy to carry. The futuristic design and large digital screen add a touch of sophistication, ensuring you stand out in style.
Tailored Vaping Experience:
Your preferences matter, and the Caliburn GK3 takes that into account. The 2mL Caliburn G3 pods, equipped with a 0.6ohm or 0.9ohm coil, allow you to fine-tune your vaping experience. Whether you prefer the rich layers of eJuice or the smooth satisfaction of nicotine salt, the adjustable 25W maximum output caters to your individual tastes.
Rapid Recharging for On-the-Go Convenience:
Uwell knows that waiting for your device to recharge is not on your wishlist. The Type-C port ensures faster and more consistent recharging, so you spend less time tethered to a charging cable and more time enjoying your favorite flavors on the go.
Easy Operation for Every Vaper:
The Caliburn GK3 Vape is designed to be user-friendly, catering to vapers of all experience levels. The intuitive controls and clear digital screen make it easy for you to navigate settings and monitor your battery life. Uwell's commitment to a hassle-free experience ensures that you can focus on what matters most – your enjoyment.
Conclusion:
In the crowded world of vaping, the Uwell Caliburn GK3 Pod System shines as a customer-centric choice. From the all-day power to the stylish design, tailored vaping experience, rapid recharging, and user-friendly operation, every aspect is crafted to enhance your journey. Choose the Caliburn GK3 and experience vaping on smok black friday sale – because at Uwell, your satisfaction is the priority. Elevate your vaping journey with the Caliburn GK3 and indulge in a truly customer-centric vaping experience.